Bonsoir,
Je suis vraiment très heureuse que FINNABAIR est acceptée de venir en France pour la 1ère fois !
Je l'ai rencontrée en Belgique et ces ateliers sont uniques. Ils sont accessibles à toutes et d'une créativité incroyable. Bien sûr, il faut aimer la patouille.
Les inscriptions sont ouvertes !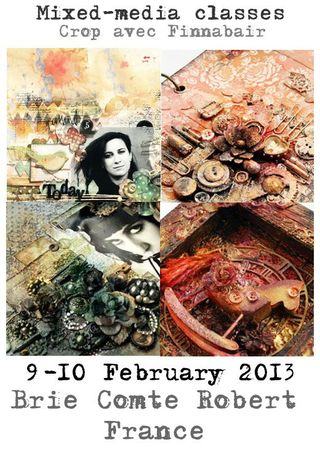 Date : 9 et 10 février 2013
Lieu : Brie Comte Robert (77) en Seine et Marne, à côté de Paris
Inscriptions à la journée ou au week-end
Kits compris
4 ateliers : 185 euros le week-end
Les 2 ateliers du samedi : 90 euros
Les 2 ateliers du dimanche : 95 euros
Paiement possible en 4 fois : 4 chèques de 46,25 euros au nom de Isabelle Gallien encaissable en octobre 2012, novembre 2012, décembre 2012 et janvier 2013.
Les ateliers seront en anglais mais il y aura une traductrice.
Atelier 1 du samedi : Splash de 9h à 12h, une page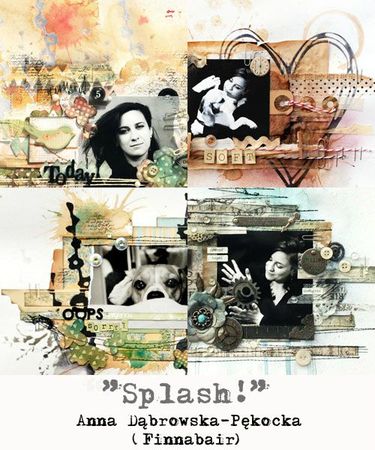 "Splash"
Mixedmedia Paper Layout Class ( with stain and ink splashing, stamping, spraying... and more!)

You think it is time to try something new, a bit different than traditional, multi-paper scrpbooking projects and popular embellishments? Do you want to have some creative fun, go artsy playing with paint, inks, stains...or something even more surprising? Maybe you feel it is high time to try using some more white negative space?
Let me inspire you with some really cool ideas for creative, totally customized mixed media paper layouts! You really don't need a lot to create a spectacular project – let yourself to play with sprays, inks, stamps and have great fun with designing your project from the very beginning to the surprisingly energetic end. The possibilities are truly amazing... and experimenting with them is pure fun!
During this class I will share with you my experiences in creating layouts based on my favorite ink techniques: splashing, spraying, ink-dropping, stamping and painting I'll show you several finished projects which will inspire you to experiment with color and show you how to "embrace the imperfections" ! Will give some tips about layout composition and page balance, especially on negative space based projects. I'll tell you more about using paper, fabric and paint go get layers and show you some cool techniques for creating artsy, freestyle pages.
During this class I create with a group a full sized, freestyle layout based on mixed media techniques stamps and color products from well known manufacturers such as Ranger, Prima Marketing and La Blanche.
Give your scrapbook pages, new, a bit crazy, a bit funky look ... don't be afraid to express yourself.... and get your fingers dirty!
Atelier 2 du samedi : Pretty in grunge 13h à 17h, une page.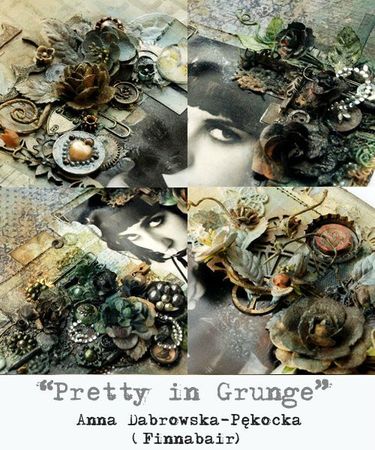 "Pretty in Grunge"
Mixedmedia Paper Layout Class based on Prima products and media techniques such as stamping, spraying, using gel medium and acrylic based paints.
This class is based on mixedmedia and scrapbookintg techniques such as multi-layering, using a wide range of mediums and loads of elements to create one-of-a kind, personalized project. The project we will make is grungy instyle, which is the essence of creative fun and freedom: you can put almost everything on your project and be happy with the effect you got. You think you are more "romantic and flowery" person? I will try to convince you that creating a grungy, eclectic layout is possible with all kinds of supplies - and the only boundaries you have are those made by your imagination! I will make you look again at your embellishments and how you possibilities of using everyday objects as a part of your composition, and giving your scrapbooking supplies the uniqueness, personal touch and new look. I will show you finished projects and share my experiences from the creative process and I will create with the students a full size layout including products from well known manufacturers (such as: Prima, Ranger, Luminarte and more!) and demonstrate possibilities of mixing different medias, scrapbooking supplies and found objects to get rich look of your project.
"Pretty in Grunge" is a perfect combination of fun, experiment and playing with composition, color and texture.
Atelier 1 du dimanche : Prima goes inky 1 de 9h à 13h, art journal
"Prima Goes Inky "
Journals are best friends of creative people: they love experiments and new techniques, they are good listeners and always have time for you. You can take them wherever you go. Journals are never in bad mood – and they never say that your project is not good enough or not creative. Working in journal is fun, easy... and liberating. There are no strict rules, no boundaries, just freedom. All the meanings and the ideas are taken straight from the heart: you can realize all the crazy plans simply because it is YOUR Journal and you create just for yourself... and let making the cover of your new friend – journal – be the first step!
During this class we'll paint and embellish Prima mixed - media book using sprays, paint, gesso and gel mediums -
I will guide you to create your own, personalized cover. I will share my favorite techniques including using found objects and Prima embellishments, creating and textures, colored with various paint product from such named brands as Ranger. I'll demonstrate possibilities of mixing different medias, gesso, scrapbooking supplies and found objects to get layers, details and unique, grungy look. It's pure fun – and a promise of even more great moments with your new Art Journal!
Atelier 2 du dimanche : Everyday treasures de 14h à 18h, canvas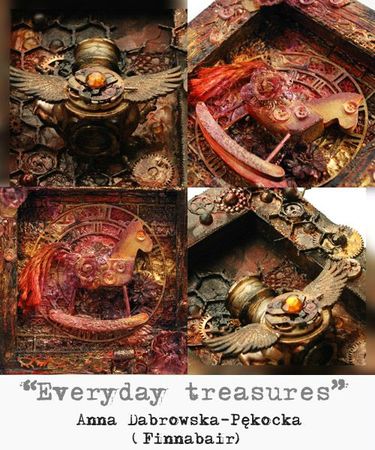 Everyday Treasures
- Mixed-media shadowbox class with lots of techniques including gel mediums, inks, paint and more! Great fun with found objects and pure creativity.

We are surrounded by inspiring objects: at work or at home, in the city and in the countryside – there are things which are usually not visible for us…they are too common, too plain to be noticed. But try to look around, open your eyes wider – I'm sure you'll find real treasures all around you, and all of them have their own stories which want to be told! Take a second look in the drawer, check your attic, search through the wardrobe…or visit the flea market – the possibilities are endless and your creativity will amaze you – just give the chance to yourself and the little everyday treasures from your neighborhood.
There are no boundaries in creating mixed media projects: you may give as much or as little elements as you want, you may use medias, paint and inks…and whatever comes to your mind too! Don't be afraid to mix and blend and let your imagination free – it is pure fun!
During this workshop I'll try to convince you that beauty can be found everywhere – and it is waiting to be discovered. I'll guide you to create your own mixed-media shadowbox, based on my favorite layering techniques and choice of embellishments, colored with a wide range of color products. I'll demonstrate possibilities of mixing different medias like gel mediums, paint, ink, scrapbooking supplies and found objects toget interesting layers and details on the unique grungy project.
This workshop is suitable both for beginners and advanced crafters.
Attention, j'ai une liste d'attente longue comme le bras : les places vont partir comme des petits pains !
Pour l'accès en train, c'est la gare de Combs la ville, RER D.
Il y a un hôtel Campanile et Formule 1 à Brie. Je vous mettrais en relation les unes avec les autres si vous voulez faire du co-voiturage et de l'hébergement de scrapeuses !
Toutes les informations seront récapitulées sur mon blog http://lescrapenrelief.canalblog.com ainsi que sur celui de Finnabair http://tworzysko.blogspot.com
Pour vous inscrire, vous m'envoyez un mail à i.gallien@bbox.fr et je vous retourne le bulletin d'inscription à compléter et envoyer par la poste avec vos paiements.
Emilie sera présente avec sa boutique DU SCRAP DANS L'ART ainsi que Valérie, LA PETITE FRANCAISE.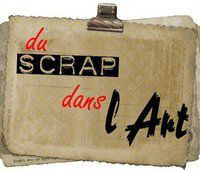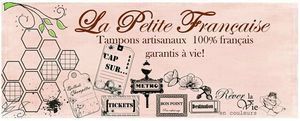 Voici les 2 réas que j'ai fait avec elle.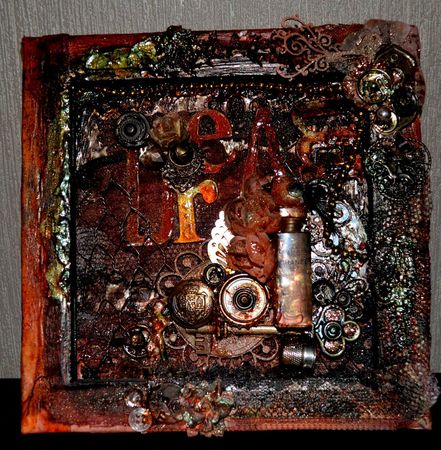 Au plaisir de vous retrouver pour cet événement génial !
Bonne soirée.
Isabelle
(ancien blog http://isa-reve-de-scrap.over-blog.com)